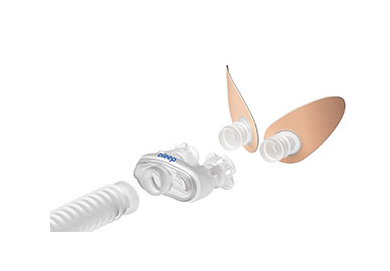 Pressure ulcers not only drive high cost for Acute Care centers, but also drive patient dissatisfaction. Traditional CPAP masks and pressure ulcers are commonly related to headgear/straps on PAP mask being too loose or too tight. Mask and nasal pillow pressure and friction is the top cause. "The average 300-bed acute facility with a 2.4% incidence rate spends $14 million a year on pressure ulcer prevention and treatment. The Centers for Medicare and Medicaid Services (CMS) spends $22 billion a year on pressure ulcers as a secondary diagnosis, according to a recent report by healthcare finance news."
DreamPort® by Bleep is the only clinically proven not to leak PAP solution that has no headgear/straps, and the only fully made in USA product, addressing the main concerns of Acute Care centers and de-risking supply.
Bleep is excited to announce expansion of its' acute care focus in the US market by entering into a nationwide distribution agreement with Mercury Medical. Mercury is a leading US healthcare specialty organization known for providing cutting-edge technology in the acute care respiratory market segment – a philosophy that is fully in line with Bleep.
The Bleep sleep solution uses hypoallergenic, BPA, latex, and corn free medical grade adhesive strips to hold the DreamPorts in place on the nose for optimized comfort. Over 70% of CPAP complaints are related to bulky headgear and uncomfortable straps – the DreamPort Sleep Solution fits the exact shape of the nose, eliminating headgear, skin tears, leaks, and discomfort. DreamPorts are easy to apply and won't leave marks on the face at the end of the night. This Sleep Solution won't constrict movement allowing patients to sleep comfortably on their side, back or in the prone position. DreamPort also decreases claustrophobia.
John Gargaro MD, President and CEO at Mercury Medical, states: "Mercury Medical believes that Bleep is a long overdue superior solution designed to improve sleep apnea patient comfort by eliminating common problems of mask leaks and skin breakdown. As a company, Mercury Medical has a rich experience in introducing innovative, clinically differentiated medical devices to market. We are extremely pleased to partner with Bleep in this endeavor to advance practices in the sleep apnea realm."
"Mercury Medical is an outstanding partner to both Acute Care centers and to the VA, focused on providing innovative solutions to drive health outcomes, compliance and improved cost. Bleep looks forward to providing Mercury Medical with DreamPort®, the only No Leak sleep solution on the market, driving value for patients, providers and Acute Care Centers," states Bleep, LLC CEO, Rebecca Holland New.
Bleep Sleep Solutions, based in Chapel Hill, NC is a sleep solution company focused on improving sleep and sleep related health outcomes. The DreamPort® is a one-size-fits-all, single SKU CPAP solution with zero headgear. It has been clinically proven not to leak, eliminates mask lines and facial irritation. It is compatible with all CPAP machines and covered by all major insurance plans. DreamPort is FDA cleared, and manufactured entirely in the United States. DreamPort provides respiratory support for patients who need continuous positive air pressure solution, such as sleep apnea.
About Mercury Medical
Mercury Medical is dedicated to delivering clinically differentiated critical care technology that saves lives throughout the world. For over 55 years clinicians have relied on Mercury Medical as their resource for bringing a legacy of innovative products to critical care areas of neonatal, anesthesia, respiratory and emergency markets in more than 58 countries. Mercury Medical's high-quality standards include ISO 13485 and ISO 9001 certifications.
For more information visit www.mercurymed.com